Start your New Year off to a great start by doing these 3 things:
1. Visit The Digital Vibe @www.thedigitalvibe.com!
2. Enjoy the content!
3. Sign up for Premium!
With a distinctly streamlined model for project management, Philip Levine runs South Florida Web Advisors, a web development agency serving the West Palm Beach, Florida area. You can find South Florida Web Advisors on Twitter and Facebook.
Tell us about yourself. Who are you and how does your process work?
I'm Philip Levine of South Florida Web Advisors in the West Palm Beach area. I've run this agency since 2014, but I've been doing this sort of work since 1997.
Assuming the client doesn't already have a website, I like to start with a template. It speeds up the development process. We find a WordPress template that works for their industry and interest. It gives them direction. They know what they need to fill in.
Then I walk through it with them. They develop the content, collaborating with me. I walk them through best practices. For example, I helped one client figure out how to write content for their Directors' page. Walking through a back-and-forth conversation makes it more relatable and easy for the client to follow.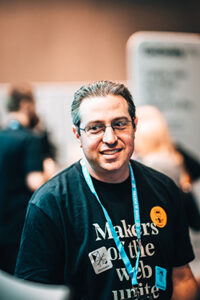 I let the client drive the process. Once we feel that the site is ready to go live, or that it's mostly ready, we'll go live. Some clients will continue with monthly updates. Some will only need an update once or twice per year. We go from there, based on what the client needs.
People often ask how long it takes to get a website done. I can get a site up in two to three days. It can take a week, or it can take months. It depends on what we're starting with, and how long the collaboration takes. Four to six weeks is a good average.
Tell us a little more about yourself. How did you start off? How did it shape you today?
In the late 90s, my school had just gotten their own website. They needed someone to maintain it. The faculty didn't know how to do it, so they got the students involved. I used Microsoft Frontpage and Notepad as an editor.
Through that I picked up some work from a local politician. She wanted to be more up on technology. She's still one of my clients.
I went to school for Management and Information Systems. Imagine everything you'd expect in a business course: finance, marketing, everything. Then take a little bit of IT: hardware, computer setups, networking, software management. Put it in a mixing bowl. That's Management and Information Systems.
I still use 75% of what I learned in school. It helps me understand what clients need from a business perspective.
After graduating, I worked for a company that had their own content management system. I worked there for a while before moving on to work with a company that serviced local small businesses, mom-and-pop shops with one to five employees.
I purchased that business from the previous owner, and here we are today.
What's the elevator pitch for your business? Describe what you do.
Our tagline is that they're not just a client — they're a friend. I'm here as a consultant. It's a partnership. If it doesn't work for my client, it doesn't work for me.
If something goes wrong, I own it. If the client wants to go in a different direction, I'll make the transition as easy as possible. I've had clients come back because of that. I work hand-in-hand with my clients because of that. It's all about the relationship.
What inspired you to start your business? How did you get started?
I always had a passion for this. My father was a partner at Ernst & Young. Technology and entrepreneurship is in me. I've always wanted to work for myself. I like the flexibility, the creativity. I took a roundabout way to building the business by buying the business.
It's not always feast or famine (knock on wood), but I'm going out and winning business. It gives me a sense of accomplishment. It's how I got started, and it's why I like doing this.
Who's your ideal client?
I'm doing a lot of work recently with homeowners' associations. Planned communities in this area have residents who look after everything. There are big companies that work with these associations, but they don't value the relationship. So my big selling advantage is that I'm local. I can come out and meet with them. They like that I'm willing to do that.
What kind of projects do you like working on?
I'm about relationships. I like helping clients who have never had a site before. I'm helping them get their presence out there, building up from scratch.
Through the GoDaddy community I've picked up clients who've seen me contribute to discussions, help others. I can step in and help them maintain their site. They just want to know that their site is kept up and running and secure.
Most of my clients have brochureware sites. If they have an update once a year, it's a lot. For bigger clients, like the HOAs, I can get very involved in their operations. It's like technology consulting.
For one client, I've helped them set up online registration systems built with WordPress. It's not a lot of custom coding — it's using the functionality of what's available in the plugins and WordPress. For example, I use Gravity Forms and Formidable Forms in different, creative ways.
What kind of projects do you not like working on?
Projects where I have to get very involved with custom coding. I know PHP, HTML and CSS. But from a scalability perspective, it's not realistic. I'm an agency of one.
If more custom development work is needed, I have connections in the community who I can lean on, and refer people to.
What are the most common problems you help your clients with?
Most of my clients are not technically savvy. They know their business, but they don't know technology.
I have a turnkey operation. If my clients need email accounts, I can host them. If they need to get set up with online tools, I can help them. If they need more help than that, though, I'll refer them out to IT professionals.
Having connections, a professional network, really helps. We can refer clients to each other, and the client gets a great experience as a result.
What advice do you have for folks who are trying to take their business online?
So many businesses that weren't doing ecommerce, or weren't focused on their website before, there's a lot of things to think about. First off: Where are your customers coming from? And what are they coming to you for?
A personal injury attorney's website needs a prominent call to action button. "Call us today." It's one of the first things they'll see. With a mobile-friendly or responsive site, you need to think about why they're coming to the site on mobile. For a restaurant, that could be a link to the menu. It needs to be visible and quick to reach.
Aside from that, whatever you're doing offline can usually translate to doing online. It comes down to knowing who your audience is, and what you need to do to bring them in.
Another tip: Have a separate Facebook profile for your business. That way, if you need to manage your clients' Facebook profiles, they can connect with your business profile. It's important to have that separation, especially if you're sharing personal information.
What advice do you have for folks who are thinking about starting their own business?
Do your homework. I see in the GoDaddy community, and in Facebook groups, people who are getting into the web development business. They've sold their first project, but they don't know where to host them.
If you're going to do anything — become a chef, for example — you're not going to start a business before you know how to cook. Find a focus and learn it.
You can learn through watching webinars, attending events, reading tutorials. Figure out what works for you. But do your homework. Then you can talk with an authoritative voice when you're talking to potential clients. You'll know how to address the questions that come up.
One of the worst things you can do is go into a pitch, and guess as you go along. If this is your first client, be up front with that. You've set the expectation. Otherwise you risk over-promising and under-delivering. It's better to under-promise and over-deliver. Show clients how much more you can actually do for them.
Anything else you'd like to share or promote?
I love being able to give back. Why do I volunteer for things, like spending time in the GoDaddy community? I do it because I want to give back. I've been doing this for over 20 years.
If I can give a little bit of information to someone else, to make their life easier, it makes me feel good. And it doesn't cost me anything more than my time. If everyone gave back a little bit, whatever their industry is, it gives back to the community at large. It's a good thing to do.
I'm also involved in a number of networking groups. There are groups that are very structured with quotas. That's not for me, but it works for some. Find a networking group that suits you. Start with your local chamber of commerce and go from there. Try out different ones.
Having relationships with complementary professionals gives you a power team to lean on. You become the go-to expert for each other.
Get yourself featured
Do you want to be featured on GoDaddy.com, show off your expertise to potential clients, connect with other web professionals, or get exclusive access to special GoDaddy projects and programs?
We'd love to have you as a GoDaddy Pro Community contributor! Get started here.
The post Philip Levine: Walking them through it appeared first on GoDaddy Blog.
* This article was originally published here
P.S. You can donate to "The Vibe" by donation by supporting the Show!
Thank You!